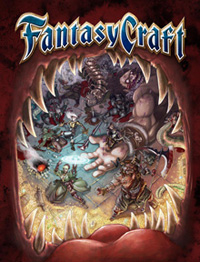 This second printing of the Fantasy Craft core rulebook includes complete errata and clarifications, making it the definitive answer for anyone looking for a customizable high adventure roleplaying experience.
ENnie Award nominee for Best Writing, with an Honorable Mention for Best Product of 2010
Origin Award nominee for Best RPG of 2010
Your Dungeon, Your Dragon, Your Way
This is the time of high adventure – your adventure! Take charge of your gaming experience with simple yet powerful rules that let you craft any character, any monster, or any world you can imagine. Whether you like your fantasy bright or bleak, gritty or gonzo it's all here, supported with one of the most versatile RPG systems ever devised.
Versatile mix-and-match character creation
Revolutionary point-buy monster construction
Sleek, simple character-centric combat
Skill-driven spellcasting and world-driven miracles
Collaborative, dynamic storytelling rules
Fantasy Craft gets back to why we love gaming: It's about the stakes, and raising them. It's about the odds, and beating them. It's about legends, and making them. It's about you. Roll Your Dice Like a Hero Again!
Retail Price $80 – donated by Crafty Games
To bid on this item, place a comment below with the amount of your bid. Use a valid email address so that you can be contacted if you are the winning bid. Don't forget the rules regarding payment for winning bids!
Bidding ends tonight at Midnight Eastern Time (9:00pm Pacific)!
IMPORTANT NOTE: Winning bidders please wait for email instructions from Real World Hero on how to pay for the item(s) you have won.