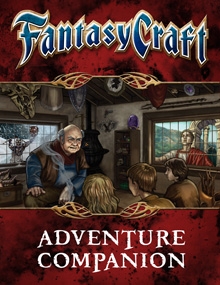 Every Hero Needs a Good Companion
Frodo had Sam and Conan had Subotai, but neither of them had this ultimate companion. Whether you're battling demons in the harsh and savage land of Epoch, exploring the mysterious ruins and rivers of Sunchaser, engaged in high stakes fantasy intrigue and espionage in Cloak & Dagger, or just looking for some new ways to shine in any world you visit, consider this invaluable tome your guide to victory.
Find Your Hero's Path
Three fully detailed campaign worlds
12 Base, Expert, and Master Classes
Over 150 Specialties, feats, tricks, and Paths
A universe of gaming possibilities!
The Adventure Companion is an essential addition to every player and GM's Fantasy Craft library, offering all the tools, tricks, and talent to face down whatever the opposition throws at you – and come out on top.
Retail Price $45 – donated by Crafty Games
To bid on this item, place a comment below with the amount of your bid. Use a valid email address so that you can be contacted if you are the winning bid. Don't forget the rules regarding payment for winning bids!
Bidding ends tonight at Midnight Eastern Time (9:00pm Pacific)!
IMPORTANT NOTE: Winning bidders please wait for email instructions from Real World Hero on how to pay for the item(s) you have won.