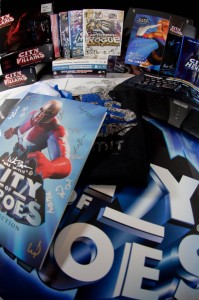 Auction week has come and gone. The bids have all been tallied and the 2011 Real World Hero Charity Auction has raised $2276.97 for charity.
Thank you to Paragon Studios and all of the people and players that donated items to the auction and placed bids. There were over 1300 bids in all! Congratulations to the winners and thanks to the rest for bidding things up. We're collecting donation receipts and will begin shipping items to the winners this coming week.
But the Real World Hero Charity Drive is far from over! Donations can still be made through December 30th, 2011. We'll be doing more in-game events, so keep your eyes and ears open for the details. Keep spreading the word in-game and out!